1979 - Rockpile

Nick's first Australian tour was with Dave, Terry and Billy in Rockpile. The Date was October 1979 and they played most mid size venues in the major cities (the Regent Theatre in Sydney). Support was by a young up and coming band by the name of Mental As Anything!

To view the program for the tour, click the cover...

To view photos of the Sydney Gigs, click the photo of Nick and Dave...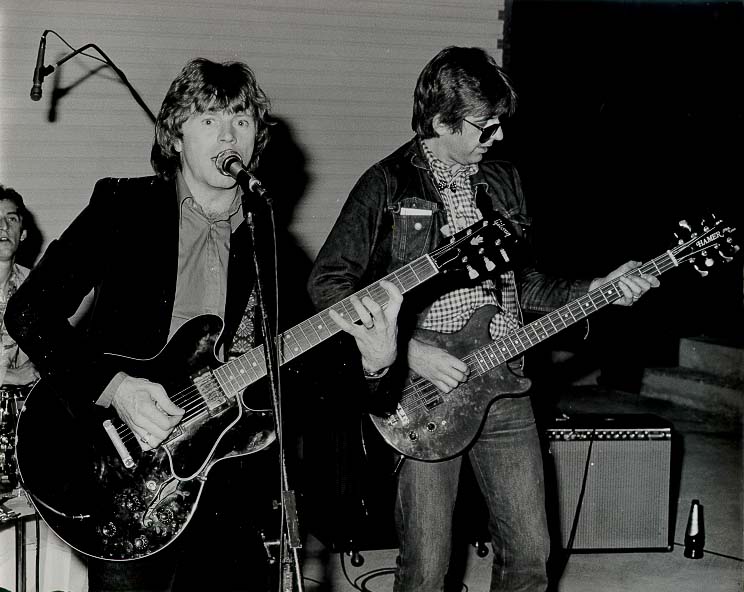 ---
1984 - Cowboy Outfit
The next time Nick visited us was in 1984 with his Cowboy Outfit. There exists a bootleg tape of his performance at the Chevron in Sydney. Anyone want to lend me a copy? Any photos or memorabilia from this tour would also be appreciated.
1989 - Elvis Costello

Moving on to 1989, Nick supported Elvis Costello on his stadium tour of Australia. Again, anybody with clippings or photos should feel free to send me them to me!
---
1996 - The Impossible Birds
Last but not least, Nick graced our shores in April 1996 to promote the "Impossible Bird" set. The few dates he played included shows at the Metro in Sydney (with Tim Rogers as support) and the Continental in Melbourne. Feel free to tease me, as I did not have the prescence of mind to make the trip down to Sydney from Newcastle to view his act. Sure it was a Monday or Tuesday night, but did I have anything better to do the next day?! Never mind, I'll be ready for him next time he visits.... Please Nick, come back!